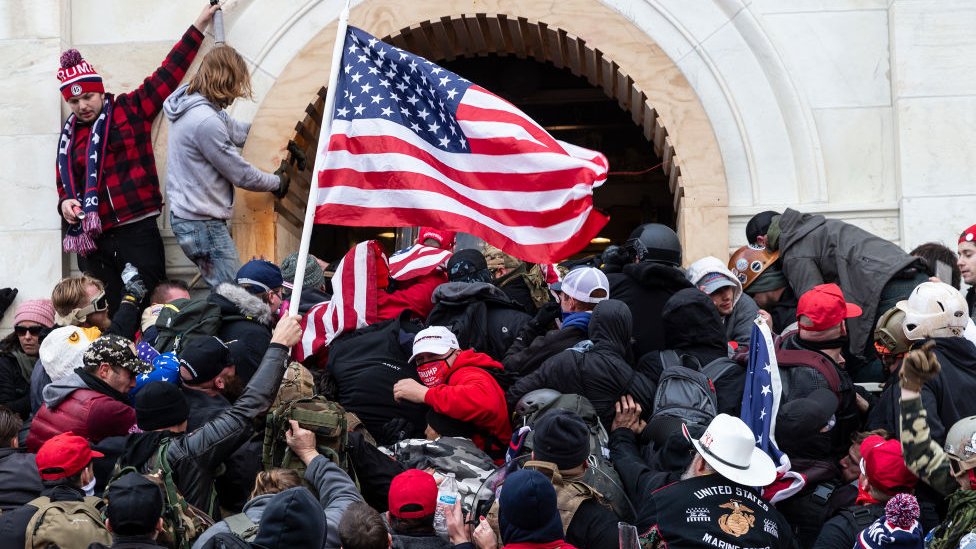 Today is Saturday January 9th 2021. Kia ora katoa.
After the horror of January 6, of the invasion of the US Capitol in Washington D.C. by a mob of Trump supporters, more and more facts are emerging about this shocking event, as the country's journalists figure out what happened, and what may happen next.
It would be fair to say that people knew something was coming: Trump returned from Mara a Lago to address his crowd of supporters, who had long since arranged to hold a rally in Washington on this day.  What was surprising, was that Trump didn't call martial law, something some of his advisers told him to do, and something many were afraid of; rather, there was little in the way of law enforcement, or police able to secure and take back control of the Capitol. Instead, the mob ran riot, causing a great deal of damage, much of it captured on film. It now seems clear that Trump arranged this, firstly by inciting the mob with lies, and then by not allowing release of federal National Guard troops until the disaster had been running for several hours.  Washington is not a state, and cannot call troops on its own say-so. Nevertheless, the lack of security around the Capitol was alarming. There have been suggestions that some police helped the mob, telling them where to go to locate certain offices.
I guess many of us thought Trump really is finished now: some Republicans came out against him; Barr accused him of "orchestrating" this infamous event; Biden was confirmed as President-elect, and there was talk of the 25th Amendment to the Constitution being invoked to depose him, or impeachment; the Rupert Murdoch-owned Wall St Journal (and others) called on him to resign.
But how many times have we thought Trump is surely finished, now, only to have him, Phoenix-like, re-emerge with Republican support? I remember the Jim Comey firing; the meeting with Sergei Kislyak and Lavrov in the Oval Office, that we found out about because Russian media reported it; the Mueller Report; the press conference in Helsinki with Vladimir Putin; the many times Trump has been a bumbling, inconsiderate oaf, called members of the armed services "suckers and losers", I could go on and on. There are many instances. Finally, his four years are up, and the country elected Joe Biden to be their next president, despite the fact that he's now 78 years old. And now the clear result of that election is being contested by the president, and his supporteers egged on to commit violence. Oh, and did I mention the "shake down" phone call to the Georgia Secretary of State?
I have listened to many podcasts over the last two days, and learnt different details about what happened in Washington, from reporters who were there, to analysts discussing it. Although different details are supplied, a consistent message is relayed of shock, horror, disrespect by the mob, and fear of what may happen next. While many have laughed at Trump's seeming chaotic incompetence, he has a certain reptilian cunning, a conman's survival strategy, where he cares for no one but himself. He has always got away with things in the past.
Some of the points that emerged (in no particular order) are as follows:
The invasion lasted several hours, and was terrifying.
There were sounds of gunfire.
Windows were broken, and other violence used to gain access through closed doors.
Vice President Pence and Speaker Nancy Pelosi were spirited away, but there was no mention of Vice President-elect Kamala Harris.
There was anger at Mike Pence, no doubt inspired by Trump, who hoped (out loud) that Pence would "come through" for him, whereas Pence's role was ceremonial.
There were cries of "F*** Mike Pence", "Stop the steal", and a noose was erected for him.
Despite this, Senator Ted Cruz said he'd do it all again.
Senator Josh Hawley gave a thumbs up, and a fist-pump.  Simon and Schuster have stated they won't publish his book.
There have been suggestions that Antifa infiltrated the protesters, but none of them looked like Antifa, or like Black Lives Matter protesters.
When law enforcement did arrive in strength, there was some tear gas and rubber bullets, but not nearly the level of aggression demonstrated to BLM protesters after George Floyd's death.
The storming of the Capitol and hiding away of politicians, many of whom (Republicans) refused to wear masks although these were given to them, may well have created a super-spreader event for Covid 19.
Everyone is shocked that Nancy Pelosi's office was desecrated.
Many of the mob evidently knew their way around.
Many photographs were taken. Some were wearing T-shirts saying "Camp Auschwitz"; others wore anti-Semitic shirts saying 6MWE (6 million wasn't enough)
Trump is now on his best behaviour, after seeing the shocked reaction to what happened. I do hope people aren't taken in by this.
Now that Trump has condemned the violence, many of his supporters feel let down, and that he has "thrown them under the bus".
As at today, 5 people died in the violence, including a police officer, who was hit on the head with a fire extinguisher. He later died from his injuries.
At least 2 IED's were found in the Capitol building. The level of mess and destruction is unbelievable.
Kelly Loefler was going to object to the Georgia presidential election results, but thought better of it. Just as well, too, seeing she lost her run-off election.
Anyway, that's just a handful of details. Consequences are still being determined. Apparently some arrests have been made: this shouldn't be hard, given that the thugs weren't trying to be anonymous. Some of them wore truly weird costumes. Americans just love to dress up. The Congress is taking steps to impeach Trump, again, while excuses are being made not to invoke the 25th Amendment. There are now less than two weeks to go until Biden's inauguration on January 20th, but what damage can Trump do in that time? Twitter enabled his account after 12 hours, but has now disabled it, permanently, thank goodness. Although he's been called upon to resign, I can't see that happening.
Evidently Trump has said he won't attend Biden's inauguration. Biden says that's the first time he's agreed with Trump! I do hope they have great security for Biden's inauguration. Trump's supporters (Trump's mob) are planning events for January 17 and January 20. They already had other events on January 6th. That's really scary. Hope and pray.
The coronavirus marches on, particularly devastating the US and the UK.
Bye for now. There's bound to be more about these events. Ngā mihi.